Wedding Band Insurance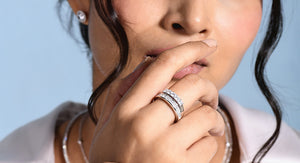 Your wedding band holds a lot of sentimental meaning and you spent time and money finding the perfect ring. Like protecting your other assets, you might be curious about insuring your wedding band if the worst happens. Keep reading to learn more about wedding band insurance including how to research, what questions to ask, and how much it costs.
TABLE OF CONTENTS
What is Jewelry Insurance?
Insurance protects your most-precious (and often expensive) assets, like your home, car, and health. An additional insurance you might want to consider is jewelry insurance for your wedding bands. Couples often spend thousands of dollars on wedding bands, so insurance is an affordable way to protect your jewelry. As a general rule, experts say to insure wedding bands that you can't afford to replace (which might include both of the couple's bands).
Generally, most policies cover theft, damage, loss, and disappearance. You can research different policies for specifics. Here's a bit more detail on each of these:
Theft: Thieves know how expensive diamond and gold jewelry costs, and how much they can get for it. Having jewelry stolen is devastating on many levels.
Damage: Everyday things happen that can damage your jewelry–you can bash your wedding band on the corner of a counter or break a prong while doing yard work. While it's frustrating to damage your ring, it's nice when costly repairs are covered by insurance.
Loss: Losing your wedding ring completely is crushing, so it would be nice to be able to replace your wedding band at its appraised value.
Disappearance: Sometimes people lose their jewelry–maybe they misplaced it or hid it so well that they can't find it. It does happen!
Wedding Band Insurance Advantages
One advantage of insurance is the protection it offers for your wedding bands. Wedding bands are special and expensive, and the insurance is affordable – it costs around 1-2% of the total value of your jewelry. As an example, if your band is $4,000, then your insurance cost would be around $40 a year to insure. If you have homeowners or renter insurance, you can check your policy for contingencies. Often they don't cover the full replacement of your wedding band. They typically have a maximum payout amount and might only cover certain aspects. As an example, perhaps disappearance would not be covered.
How to Choose Insurance?
As you research wedding band insurance policies, you'll want to look at a few specific areas to make sure your rings are completely covered.
Coverage: Research what the policy covers by asking questions and determining which contingencies get covered. Specifically ask which circumstances are not covered, and see if they cover damage, loss, theft, and disappearance.
Replacement: Policies vary when it comes to replacement, so it's a good idea to ask a few questions. For example:
How much is the deductible for wedding band replacement?
Can you outline the process to replace a wedding band?
Who locates and purchases the replacement ring (owner or insurance company)?
Do you cover repairs or partial losses? Do you cover missing diamonds or gemstones?
Can you give me a check so I can purchase the replacement or repairs?
Assessment of Value: Determine how the insurance company assesses the wedding ring's value. Ask if you're required to get an appraisal to obtain a policy.
Documentation Requirements: Ask what type of documentation is required to get a policy. Keep a file of your wedding band appraisal, any gemstone certification, all related receipts, and photos from different angles.
It's recommended that you get your wedding band appraised every two to three years. This provides you a current record of your jewelry value because it can fluctuate and you don't want to be underinsured. In addition to keeping records of any appraisals, you'll also want to keep a file of the different policies you researched and insurance-related documents once you obtain a jewelry policy.
Where to Find Wedding Band Insurance?
With Clarity has partnered with Lavalier to provide an insurance option for customers to easily protect their investment. Their policy covers any unfortunate events, such as loss, theft, and damage to your wedding bands.
As you weigh insuring your wedding bands or not, determine what best fits your needs and consider the following questions:
Would you be devastated if your wedding bands were damaged, stolen, or lost?
Can you afford to replace or repair your jewelry or diamond out of pocket?
Would spending a few dollars a month on jewelry insurance give you peace of mind?
Reach out to With Clarity if you have insurance-related questions. You've spent time and money on your wedding bands, and often the insurance gets overlooked although it's affordable, personalized, and easy to add on with companies like With Clarity.
FAQs
Do wedding bands have insurance?
Yes, you can purchase jewelry insurance that will cover your wedding bands from theft, damage, loss, and disappearance. Many renters and homeowner policies have contingencies and only cover up to a certain amount. So replacement of the value of the jewelry isn't covered at full cost.
Can I claim a lost wedding ring on insurance?
Yes, jewelry insurance typically covers loss, theft, damage, and disappearance.
Who should pay for the insurance on the wedding ring?
Typically the owner of the ring will obtain the insurance for the ring because they're the one wearing it.
Does ring insurance cover a lost diamond?
If you have jewelry insurance, then your lost diamond is likely covered. As you research policies, this is a good question to ask them. It's common for homeowner's and renter's policies to not cover lost diamonds.