Guide to Key Necklaces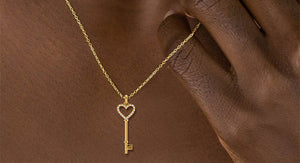 Looking for something pretty and eye-catching to wear? How about a striking key necklace? Dating back to the 6th century BC, the humble key has always been associated with opening up and revealing the unknown.
What Does the Key Necklace Represent?
Often regarded as good luck tokens in the Far East, key pendants are thought to bring good fortune to the wearer. It's believed key necklaces will open intellectual, physical, and emotional doors – attracting knowledge, wisdom, fulfillment, and riches.
There are religious connotations too, with some believing keys pave the way to heaven. Key pendant necklaces are also linked to new beginnings and new chapters – and are often given as 21st birthday gifts to herald the start of adulthood. You might also come across key and lock pendants – a symbolism of love and gifting your heart to another.
A Popular Choice for Celebrities
The key necklace design has grown in popularity over the years. Taylor Swift sported one, teaming the necklace with shorts and a top, for a casual, LA style look. Actress Hallea Jones opted for the key design too – staying on topic and wearing hers for the Netflix Locke and Key premier. It's not just celebrities rocking the look, everyone from teens to mums are keen to accessorise their outfits, and the classic key necklace is a popular choice.
Popular styles of Key pendant Necklaces.
There are many different styles of key pendant necklaces, here's an overview of some of the striking designs available:
Four Point Key Pendant
A timeless key design pendant, the four points key necklace is representative of many four-fold concepts, including the four seasons – Spring, Summer, Autumn, and Winter, four elements, or four directions. A unisex pendant suitable for everyday way, this versatile necklace has lots of appeal.
Key Heart Pendant
What better way to represent your union and demonstrate your love than with a heart key? Diamond necklace designs always stand out from the crowd, so it stands to reason a diamond-encrusted heart would make a perfect gift for a loved one. A thoughtful Valentine's or anniversary gift, this would look great paired with a little black dress for a romantic date night.
Crown Key Necklace
Regal and refined, a crown key necklace would add a touch of class to your outfit. Opt for a gold necklace design for pure opulence. The crown has a distinctive look – suitable for males and females, it works for day-to-day wear, but as it's majestic why not save it for special days and nights out? Layer it with delicate gold chains for a decadent look.
Key With Lock Necklace
A lock and key pendant demonstrates love and devotion. The necklace consists of a padlock and key and would make a super gift for your loved one to mark Valentine's or a special anniversary. Whilst this would traditionally be given by a man to woman, it could be worn by both sexes to celebrate a union. The pendant symbolises the act of entrusting someone with unrestricted access to your heart.
Compass Key Necklace
North, South, East or West? The Compass Key pendant necklace doesn't spin to help you with directions. However, it does represent the paths we take through life and the journey we embark on. A great unisex piece for travellers and those about to embark on an adventure.
Precious Metals
Key necklaces can be fashioned from a variety of metals. If you're on a budget you could go for an affordable sterling silver key necklace. With its high shine, a sterling silver key pendant necklace will draw attention (but won't cost you the earth)!
Alternatively, you could opt for yellow gold, such as a 14k gold key necklace – perfect for those with a classic sense of style. Those who favour a modish look may prefer the warm pinkish hues of rose gold.
Other options include platinum – a sophisticated choice that's great for those with sensitive skins as it's hypoallergenic. Otherwise, you could go for white gold with its radiant silvery-white glow.
How to Choose a Key Necklace
With so many striking key necklaces to choose from you'll be spoiled for choice! Here are a few pointers to help you to decide:
Don't blow the budget
The metal you choose can affect the price of your necklace, for instance, platinum is more expensive than white gold and yellow gold is pricier than sterling silver. It's wise to set a budget before you shop.
Diamonds are forever
A diamond necklace can take an outfit from average to amazing. Key diamond necklace designs stand out, but can be pricy. However, you can go opt for lab diamonds rather than earth-mined diamonds. Both share the same stunning looks and same chemical properties, but lab diamonds are far more affordable.
Gift giving
It can be tempting to buy a gift based on your own personal taste, but try to keep in mind the recipient's style. You might love bright and bold items, but they may prefer smaller, delicate pieces.
Reputation counts
Always buy from a reputable brand that offers a straightforward returns / exchange policy if you're unhappy with the product.
FAQs
We've taken a closer look at the popular key pendant necklace in all its glory. Now let's check out a few of the FAQs about the timeless key design.
What does a key pendant signify?
Key necklaces signify the opening of intellectual, physical, and emotional barriers. They are also linked to love, security, power and new opportunities and beginnings.
What do lock and key necklaces mean?
A lock and key pendant represents security and a close union. This type of necklace signifies the act of opening your heart to another.
Are key necklaces considered lucky?
Key necklaces are linked to good fortune, and are therefore considered very lucky.
A key necklace looks best in which metal?
A gold diamond necklace featuring a key design will look stunning and draw admiring glances. However, it's all down to personal preference.